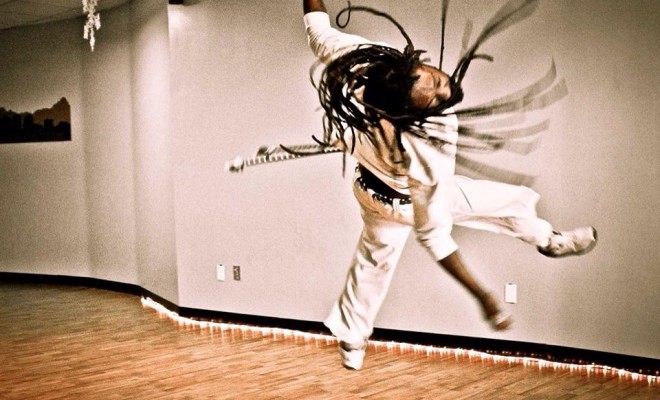 All Day, All Night, I Dream of Capoeira.
|
My Tae Kwon Do days have been long gone for quite some time and never did I think I would find myself interested in another martial art; especially when all I really want to do is breastfeed, run around naked with my baby and shout LIFE, LOVE and FREEDOM from the mountaintops.
Interestingly enough, there I am in yoga pants and a t-shirt, in a studio located in Tucson, AZ, looking around… figuring I should probably do a stretch or two, because it seemed like that's what other students were doing, and appear as if I might know a thing or two. HA!
I place Shannon down on the ground, let her do her thing, and class begins. My first class was with Profesor Besouro, who prior to just a few days ago I knew as Bryan. Yet, I realized no one calls him that and most probably don't even know that is his government name. This is obviously just the tip of the capoeira culture and family I hope to soon become familiar with.
The alleged beginner class starts and as it ends, I can confidently say it was NO beginner class. I haven't sweated that hard in FOREVER! And all I could think was, "Thank God I am physically capable to do a cartwheel or I wouldn't have made it!"
Nonetheless, I quickly became enamored and intrigued with the strength and fluidity of the art form. I was challenged and even felt a bit of competitive spirit awaken inside of me. I wanted to do more! I wanted to be better, faster and stronger!
So Prof. Besouro informed me of a school in Los Angeles. I immediately returned home and took my second class with Prof. Guatambu. This was for sure more of a "beginner" class as it explained more and had more beginner drills, along with more beginner students. I was the only first-time student with Prof. Besouro and he allowed me to crash it. Lol.
Yet, WHAT I LOVE MOST <<capitalized for a reason… is that it is completely okay for you to bring your child with you to class!   Yes mommies and daddies. They are a culture and art form with rich family love and understanding.
For whatever reason during my class with Profesor Guatambu, Shannon was quite fussy. Prof. Guatambu came over to me, sensing a bit of my anxiety and said, "The crying does not bother me. It is totally okay. If it is okay with you, it is okay with us. If it isn't ok with you, then it isn't okay with us. Nonetheless we understand and do not worry." And not only that, the other students took turns and moments to entertain Shannon. My heart lit up! Could it be I have found another love to complement my yoga and pole?!   In Prof. Besouro's class, Shannon was crawling all over the place and at one point I went to move her, and he said to me, "She is fine! Let her do what she pleases, they are trained to evade and go around her."

Prof. Besouro shared a quote with me. A quote from Mestre Acordeon,
"A venerable capoeira once said to me, 'I wished to be a dancer, and I could not be. Today I dance in capoeira. I wanted to be a fighter, so I fight in capoeira. Because I want to be an artist and express myself, have self-esteem, and be a real human being, I am a capoeirista.'"
So here I am, writing this post because I have dedicated myself to another journey of tapping into some Afro roots, equipping myself with some protective defense moves and expanding the art that is me!
Not to forget to mention, they have some good looking men in this thang. I have the hots for one of them *cough Prof Besouro *cough.   Ahem. Don't tell anyone.
So check out my first video. Aint no shame in my beginner game! I can only get better.
To learn more about capoeira and the school I have joined check out this link >>> http://capoeiraucainla.com/