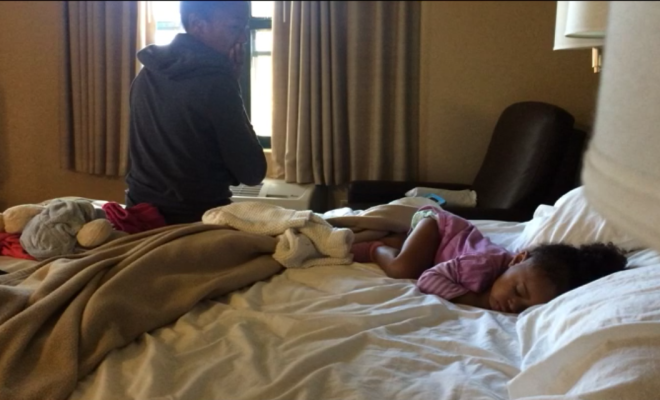 Homelessness – I'd Like To Call It "In Transition"
|
Good Evening Village!!
I know many of you are concerned about Shannon and I, so I want to update you all on how we are doing. However, it is imperative that I first acknowledge my village for gathering around Shannon and I, hugging us tight and lifting us up with your words, prayers, affirmations, income opportunities and financial donations. I plan to personally thank each individual with something special. I shed more tears from the overwhelming blessings that came from a place of love and support than from being kicked out of my parent's home; which I didn't shed tears over as it unfortunately wasn't the first time (for those who remember my post earlier this year).
Nonetheless, I wanted to assure you all that I have not forgotten, nor did I ever forget my purpose in this life to uplift and encourage you all on a daily basis; while fighting for changes to better support our families here in the US and World. That has always been my main focus and concern. It has never been about how can I chase and get the money. I take extreme pride in having been chosen to represent the free world filled with people who choose love, kindness and understanding over deception, falseness and hate. Never will I take that lightly and I will always be conscious to maintain and courageously share my truth, love, transparency and in this moment, vulnerability.
Most are aware that choosing a life to serve others may not always pay the big bucks. I am completely okay with that, because abundant messages and notes filled with thank yous and inspiring stories of how I have improved others lives is payment enough, especially since I was not paying rent. I have learned and have enjoyed living a very simple life being present with people than with things of monetary value. Hence folks calling me a hippy. However that is where my light, my happiness resides. The love of me that shines and reflects the love that is in everyone else. I truly cannot complain.
What you witnessed in that video was frustration and confusion. Indecision on how to maintain the time and energy it takes to answer countless emails and comments from men and women, parents who are seeking a non-judgmental friend, comfort, understanding and advice from me; a person who they believe can help them, support them, love them. And doing that while now worrying about how can I keep a roof over my daughter and I's head after having to remove all of our belongings in less than 24 hours, with very little money in the bank. Not to forget to mention, Sallie Mae, excuse me Navient, who Incessantly calls my phone demanding large payments on a $104K school loan to a private institution I have a love/hate relationship with, if that's needing to be paid at some point then looking at somewhere such as SoFi to calculate how much I could save with opting for a lower interest rate. I was most definitely frustrated and tired. I was so tired. And So heavy as even now, in this moment, there are mamas and papas in my inbox fighting for their children in courts, covering physical and emotional bruises from their partners, mamas feeling guilt and pain for struggling with breastfeeding and even worse beating themselves up over weight and feeling ugly.
I refuse to fail them and I refuse to let them down because I am them! I feel that mama's pain and I feel that papa's pain. I feel that child's cry. And the strength, wisdom, peace and gift of communicating love with vigor and passion was not bestowed upon me simply to hide in a corner with.
Sharing with you my current struggle and circumstance was to continue to allow you all to see me! Truly see me! No hidden agendas, no secrets, no fake life of "im doing it big with my cell phone camera on Instagram". Aint nobody over here got time for that. Keep in mind now, I was just sharing with yall this past summer about how my daughter and I barely made it in the house as my father refuses to run the air conditioner. Honestly, it would be unrealistic to expect a person who is unwilling to hire a Roof Replacement or repair service during monsoon (when the water constantly drips inside from the cracks of the roof inside the rooms) to understand that the pangs of scorching heat require air conditioning. Yes, he did not really bother to switch the AC on!
That's why we never had any clothes on. Well, not using an HVAC appliance for a long time can cause it to go out of order and that might require us to look for an AC repair firm like Brooks Heating and Air or other such service providers in the area. Spending money to repair something that you haven't used can be a bummer. I most certainly would have shared with yall that my dad never turns on the heat either but it hadn't gotten that cold yet and well, we obviously wont be living there anymore, as I have received the lesson this time around. Believe you me!
Many can see I have been blessed with special talents and with that being said my parents, father in particular, had set a path for me that he wished to have me follow. It is obvious he had not envisioned this for me. And with that came much disappointment and anger towards my defiance on what he feels I should be doing with my life to chase riches. Interestingly enough, when I was working at the Department of Labor, in the Civil Rights Center on Capitol Hill, my father told me that I "was going to get there, see how fucked up the world is, become a lawyer and change it." Because he is so blinded by his stubbornness on his beliefs on what success and liberation looks like he fails to see that I have stepped into that purpose of healing others and walk in that now.
I know many are asking well what about your mom? Well she is definitely doing all she can to stay in a neutral space as I am sure it has to be difficult to be torn between a husband and a child. (I wouldn't know first hand because I am not married). Yet she is doing all she can to assist Shannon and I. I choose to believe that. <3 Although I am aware that many will not understand my purpose, my path and my DUTY that I, as a Queen and Goddess, must fulfill to enrich and empower my people, I find solace in the constant reminder that I am worthy and good enough every time Shannon calls out for me, "mama", and gazes upon my face in complete adoration. We are doing well and I feel much encouragement. I currently am drafting a plan, brainstorming ideas and figuring out how to secure a place that I can afford to create a sacred, healthy environment that we can dwell in. I did receive enough donations to cover my paperwork and I am grateful. So grateful and always in constant practice of gratitude. I thank you all for holding us down with helping keep a roof over our head and pray you continue to support Ms. Wrights Way in the future as I am here to serve you, the people. I love you my brothers. I love you my sisters. I need you. And I will be the first to admit it. #Life #Love and #Freedom
I welcome challenges, as they are opportunities for growth

*perhaps this is why my ass got kicked out lol

Time to fly some more!
FB Video Post – https://www.facebook.com/video.php?v=822284201167448&l=2951173877385194825