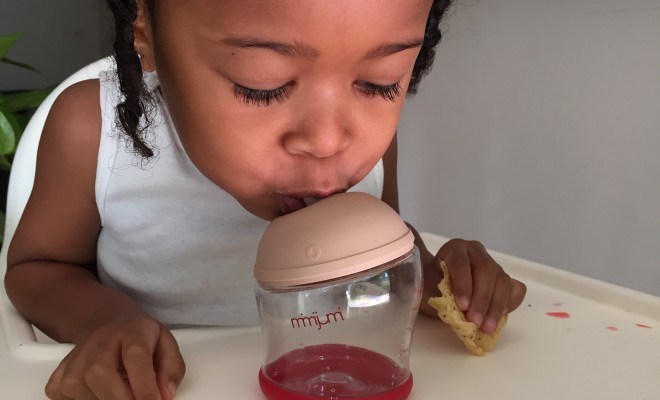 MimiJumi
|
Ask and Ye Shall Receive!
(ENTER GIVEAWAY BELOW)
You all asked for a bottle suggestion, well here it is!  Introducing MimiJumi!
I ran into this bottle and the folks behind it at this years ABC Kids Expo and I was so thrilled to get my hands on one to see if it was worth sharing with you all.  I have to say, it is all that and then some.
Just the way it works and how it feels is so amazing. Plus the look of the nipple really makes it an easy sell for the kids.
I too, had a child that was not interested in bottles and spent tons of money on high end AND not so expensive bottles to be able to take a moment to do whatever I felt was necessary without her at the time.  None of them worked, except for an occasional free hospital nipple that was for the pre-made formula bottles.  Other than that, Shannon would just wait it out for my return. And that's exactly what she did.
So seriously take it from me. Don't waste all that money and have anxiety and stress.  Order one of these or throw it on your registry!   The best part if you buy it directly from them, there is a money back guarantee!! WHHATTT??!!! Yes! MONEY BACK GUARANTEE!
Baby will love the bottle or your money back!
Here's some more details about it:
Second only to Mom:The breast-like nipple looks and acts like a real breast during breastfeeding, minimizing nipple confusion and allowing baby to go back and forth from breast to bottle with ease
Natural Feeding Experience & No Flow Rate: baby controls milk flow through a natural latch
Easy-to-Use & Easy-to-Clean: no-skid base & generous opening for one-handed filling & dishwasher safe cleaning
Durability & Safety: exceptional, high quality materials that exceed global safety standards and are incredibly durable
97% of Babies Take Our Bottle
ENTER GIVEAWAY BELOW!
Or Order your bottle >> Click Here!